Greater Moncton is an International City of Peace!
International Peace Day - September 21, 2020

In an historic event, the mayors of the Tri-Community of Moncton, Dieppe and Riverview signed a proclamation to become an International City of Peace! To celebrate, we are inviting citizens and organizations of our community to help define and imagine our culture of peace by creating an online peace mosaic together.
The Peace Mosaic Project
We hope to engage thousands of people in expressing what peace means to them by submitting pictures with definitions, experiences, hopes and desires for peace as individuals and as a community. The pictures that you submit will be captured in an online software tool that will build an interactive online mosaic similar to the example below. Each individual picture submitted will be a "tile" on the mosaic.
Mosaic Symbolism
The mosaic represents how everyone, working together, can create a culture of peace where everyone feels connected and included, that they belong and that they can thrive. To expand our collective sense and experience of peace, everyone is important. By uniting with our contributions, creativity, and caring, we expand the possibilities and potential for everyone. This is our art of peace and a legacy for future generations.
Upload Your Picture of Peace!

What does peace mean to you?
Show us and tell us what peace means to you and we'll include it in our Greater Moncton Peace Mosaic.
Take a photo of a peaceful place, or your friends, family, ...something that makes your heart peaceful and sing out loud!

Create peace artwork to upload here and post on your Facebook or Instagram too!

Write some peaceful words that you would like to share and place them on a beautiful background or picture
Upload up to 20 photos to be included in our Peace Mosaic now:
See more information about picture content/format below
(Contributions accepted until October 1)
Photo Sizing Instructions
The dimensions of the "tiles" in the final mosaic will be square 1:1 (1 wide x 1 tall). This means that for best results, it is best to submit pictures where the important part of the picture can fit in a square. Pictures of other dimensions will be cropped to 1:1. If you have write words on your pictures, make sure that the words fit within this size too. We also suggest that you submit high quality pictures of at least 1200 x 1200 pixels in resolution. See the examples below.

Picture size/cropping is OK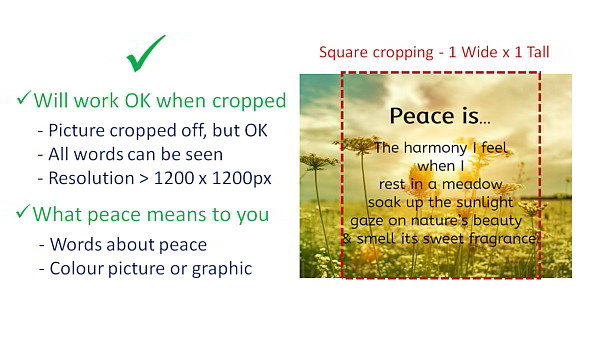 Picture size/cropping is not optimal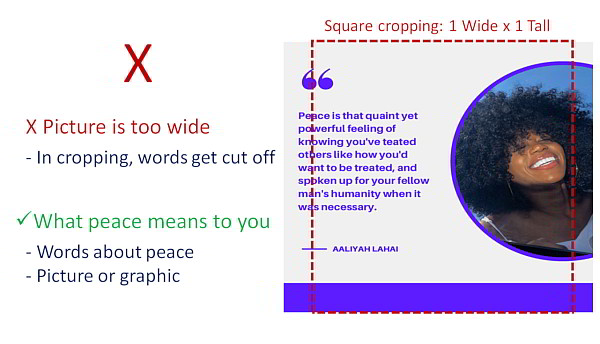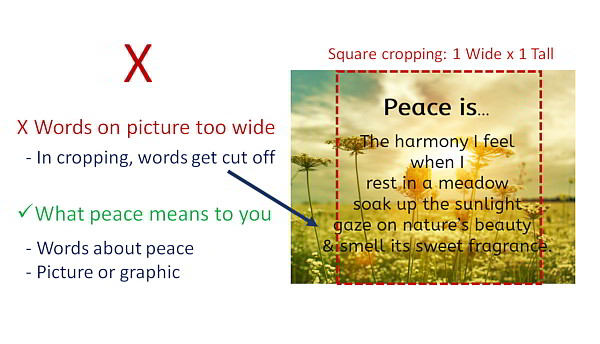 Remembering & Envisioning Peace

In Greater Moncton
...in where we have been

 ...in who we are

...in what we are becoming